Do you dream of exploring the world?
Your next job could be challenging, fun, inspirational - and your greatest adventure yet.
Join us for our 130-hour TESOL/TEFL Certificate course, and get ready to teach English around the world.
You can even get your certification over the summer in Ecuador!
In one semester or less, you'll have the tools and skills to be confident in the classroom - on any continent.
Are you ready for an adventure in language learning?
Everyone seems to want to learn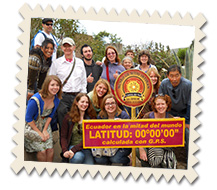 Spanish...
why not experience it? Join us in Quito, Ecuador this summer as you explore Latin American cultures, dive into a new language, and stretch your boundaries. Improve your Spanish and be at home in a new culture.