Experience Spanish Immersion Trips to Ecuador
Are you interested in experiencing first-hand the culture, history, and language of a beautiful Latin American country? Would you like to gain or improve your Spanish language skills? Join us in Quito, the capitol of Ecuador, for an unforgettable trip of learning Spanish and experiencing the amazing cultures of South America. Located just 15 miles south of the Equator in the Andes Mountains, Quito is known as "la mitad del mundo," the middle of the world.
Join us for a Spanish immersion program that includes instruction and activities both in class and within the communities of Quito and the surrounding areas. You'll stay with a local family, and study Spanish and Latin American culture with instructors at the Equinox Spanish School and an on-site coordinator from English for Life Academy.  Classes are available for all levels of Spanish.  Whether you're you're learning "Cómo te llamas?"or reading Cervantes, we have a teacher ready for you.
Enjoy experiential classes at Equinox Spanish School in the mornings, excursions to cultural and historical sites in the afternoons, and "out of town" excursions on the weekends.
The program includes:
Course materials
Lessons in Spanish grammar and conversation
3 Graduate-level credits through our partnership with the University of Charleston (optional)
An introduction to Ecuadorian history and culture
Trips to cultural institutions in and around Quito (museums, historic areas, cooking classes, salsa lessons, etc.)
Guided weekend excursions
Home stay and meals with a local Ecuadorian host family
Laundry service
Airport pick-up
The best Spanish teachers and friendliest bilingual staff in Ecuador!
As placement tests are given on the first day, all levels of ability from absolute beginners to Spanish teachers are welcome. Once you register, you'll be required to complete additional forms as well as to attend an orientation session before departure. Airfare and associated travel costs (passports, etc) are not included in the course fee. Only the first 20 registrants will be accepted, so please register early!
And we've now added more flexibility with 2 or 3 week programs.
Summer 2016 Experience Spanish Immersion Trips

Dates:

17-days: June 18 – July 4

22-days: June 18 – July 9

Tuition:

17-day: $1997
22-day: $2747Graduate credit option: $297

Registration Deadline:

Registration is open on a space-available basis and must be complete by April 1, 2016.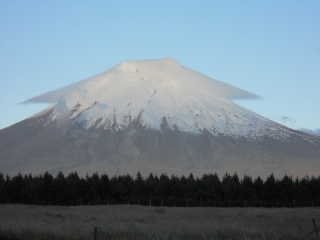 Quito, (pop. 1,865,541) has one of the most magnificent settings in the world. Designated as a World Heritage Site by UNESCO in 1978, Quito boasts one of the finest colonial centers in Latin America. The city offers a vibrant cultural life with theaters, museums, indigenous open markets, universities, unique cafes, shops and restaurants. The surrounding area also offers an incredible geographical diversity: the Andes mountains, the valleys, the Pacific coast and the Amazon rainforest.
All classes will take place at the Equinox Spanish School, a well-known Spanish language school, in the heart of the tourist district of Quito, Ecuador.
The Accommodations
We will arrange a homestay for you with a local family. Students living with a host family have their own private room. Three meals a day, seven days a week, laundry service, and transportation to and from the airport also are included. Houses are typically located within walking distance or a short bus ride to school and city amenities.
The cost of the homestay for the duration of the course is included in the price.
The Classes
Your Spanish classes and weekday excursions will be taught by professional, fun, native Spanish speakers.  You will attend one-on-one or small group classes for 4 hours in the morning, and after lunch you will visit the important cultural and artistic sites of Quito with your teachers as you continue to learn and practice Spanish and Ecuadorian Culture.
What better way to learn Spanish than to live it!
The Excursions
In addition to the Spanish classes during the week, it's important for our participants to experience the life and beauty of Ecuador. Why would you visit another country and stay only in the classroom? For that reason, we have also included the following weekend excursions (subject to change)  in the cost of the course:
An opening gathering with information about the culture and language of Ecuador and a walking tour of the historic downtown.
An afternoon at "el mitad del mundo" where you can stand on the equator line, eat typical Ecuadorian food, and learn more about Ecuador's indigenous past and present.
A day trip to Otavalo, one of the most well-known indigenous markets in all of Latin America.
An overnight trip to Baños, a town of mountains and jungle, extreme sports, and of course the natural thermal springs Baños was named for.
Photo Gallery of Quito, Ecuador